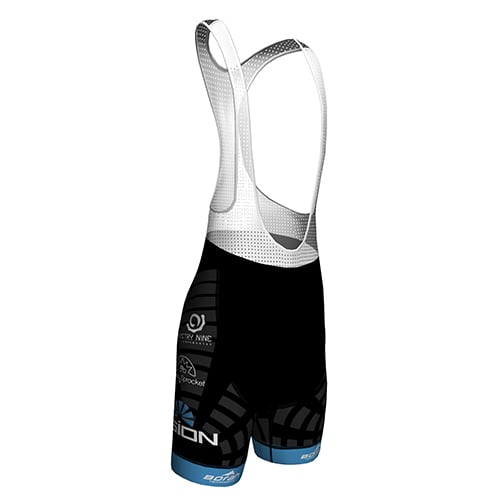 Tight-fit, premium racing bib-short, featuring a 6-hour Carbonium pad, single-ply, Lazercut seamless edging and silicone-beaded PowerGrip leg bands for enhanced fit.
- Extremely breathable, moisture wicking
- U-panel design for ergonomic fit
- Silicone-beaded, single-ply PowerGrip leg bands
- Lazercut seamless edging
- Flat-seam stitching to reduce chafing
- Lightweight Papua bib-mesh
- Comp HP Carbonium Pad
- Sizes XS - 4XL available
100% CUSTOM MADE IN USA
Materials
- Shield (Italy) A fabric that offers responsive stretch and muscle compression with a durable and smooth, shinny sublimated finish.
- Zaffiro (Italy) A silky fabric that compliments Shield and offers a deep black presentation and outstanding saddle surface durability.
- PowerGrip (Italy) A single-ply, silicone-beaded fabric, used in key placements to maintain a subtle grip on the skin, yet allow the body to move freely with non-binding movement.
- Comp HP Carbonium Pad (Italy) Quattro zone densities and 3D shaping offer superior comfort and performance for endurance riding and racing, up to 6-hours. The top skin layer is finished with E.I.T. Cube MicroFiber.
Care
- Wash cold
- Hang to dry
- Avoid abrasive surfaces